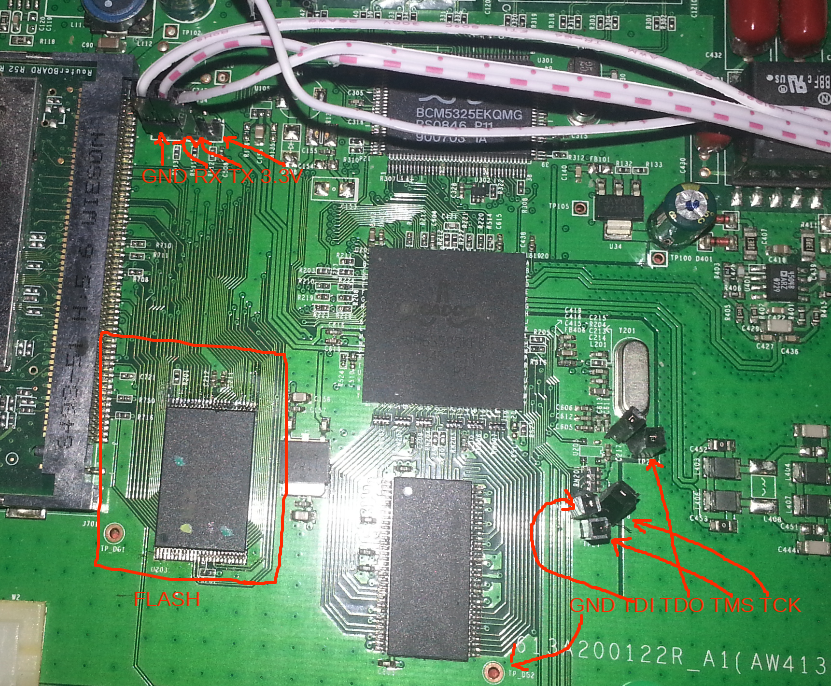 Premetto subito che le informazioni qui riportate sono per chi ha già una buona esperienza.
Altra premessa è il fatto che non è detto che si possa far ritornare il router al suo stato di fabbrica dopo le modifiche descritte in questo articolo, se si vuole avere un punto di ripristino, eseguire prima di flashmem
readmem 0x1f000000 0x20000 /percorso/al/file/di/backup
Questo comando salva i primi 128kb della memoria flash, che comprendono la nvram ed il cfe della D-Link
Per eseguire l'installazione di OpenWRT è necessario come prima cosa sostituire il bootloader, per fare ciò è necessario utilizzare la porta JTAG , che contrariamente a quanto riportato dalla maggior parte degli articoli che trattano questo router, è presente.
La porta JTAG è accessibile sulle piazzole con le seguenti etichette
| Testpoint | JTAG |
| --- | --- |
| TP_DG2 | GND |
| TP25 | TDI |
| TP26 | TDO |
| TP27 | TMS |
| TP28 | TCK |
Per programmare la memoria flash , il programma che mi ha funzionato senza problemi è urjtag (
http://urjtag.org
), di questo programma non va utilizzata la versione 0.10 , ma la versione SVN
Una volta eseguiti tutti i collegamenti ed avviato urjtag come root da riga di comando digitando "jtag", è necessario specificare che tipo di cavo si usa, nel caso della porta parallela
cable parallel 0x378 DLC5
mentre nel caso di Altera USB Blaster
cable usbblaster
Poi è necessario identificare il processore, per fare ciò, digitare detect
Dovrebbe apparire un output simile:
jtag> detect
IR length: 5
Chain length: 1
Device Id: 00000110001101011000000101111111 (0x0635817F)
Manufacturer: Broadcom (0x17F)
Part(0): BCM6358 (0x6358)
Stepping: V1
Filename: /usr/share/urjtag/broadcom/bcm6358/bcm6358
Se dovesse comparire come device Id una stringa di 0 , oppure altri errori , come TDO seems to be stuck at , o roba simile, ricontrollare i collegamenti e che il router sia acceso.
Poi è necessario inizializzare EJTAG in modalità DMA , per fare ciò:
jtag> initbus ejtag_dma
ImpCode=00000000100000011000100100000100
EJTAG version: <= 2.0
EJTAG Implementation flags: R4k MIPS16 DMA MIPS32
Clear memory protection bit in DCR
Clear Watchdog
Potential flash base address: [0x0], [0x1f00008c]
Processor successfully switched in debug mode.
jtag>
Se dovesse bloccarsi urjtag in questo passo oppure dovesse dire che non riesce a mettere in modalità debug il processore, ritentare e se il problema persiste , provare ad entrare nel prompt CFE utilizzando la porta seriale e ritentare da capo la parte inerente ad urjtag.
È di fondamentale importanza , essendo JTAG stateful , che quando qualcosa vada storto o si vuole ricominciare , sia chiuso e riaperto urjtag e spento e riacceso il router.
Una volta inizializzato EJTAG , si può passare ad inizializzare la flash CFI con il seguente comando
jtag> detectflash 0x1f000000
Dovrebbero essere restituite tutte le informazioni sulla memoria flash , in caso contrario , ritentare più volte e se continua a non funzionare , chiedere aiuto nei commenti di questo post
Un altro passo fondamentale è eseguire il comando
jtag> endian big
Questo comando, imposta che anche il file è bigendian come il processore e quindi urjtag non andrà ad invertire le word
flashmem 0x1f000000 /percorso/completo/a/cfe6358.bin
Se tutto è corretto inizierà a cancellare e programmare i settori della memoria flash con i contenuti del file, una voltè che è completata la procedura , e la fase di verifica non ha dato errori, si è pronti a riavviare il router e tramite la porta seriale configurare i parametri della scheda
Verranno chiesti alcuni parametri come segue:
*** Board is not initialized properly ***

Press: <enter> to use current value
'-' to go previous parameter
'.' to clear the current value
'x' to exit this command
Board Id Name (0-4)
96358VW ——- 0
96358VW-16 ——- 1
96358GW ——- 2
96358GW-16 ——- 3
96358M ——- 4 : 0
Number of MAC Addresses (1-32) : 0 4
Base MAC Address : 24:0a:64:xx:xx:xx
Press any key to reset the board:
Sostituire ovviamente le xx del mac address con dei codici esadecimali validi e che non siano un indirizzo di broadcast.
È possibile anche modificare i primi 3 byte del mac address, quelli che ho messo io sono del produttore della mia scheda madre ( ASUS ).
Il reset della scheda al termine dell'operazione non è detto che funzionerà , in tal caso trascorsi almeno 5 secondi , rimuovere e riapplicare l'alimentazione
Una volta completato questo passo, rientrando nuovamente nel prompt del CFE , dovrebbero essersi abilitate le porte ethernet con indirizzo ip 192.168.1.1.
Una volta scaricato openwrt , connettere il PC con un cavo ethernet allo switch del router, e visitare la pagina http://192.168.1.1
In questa pagina , non serve fare altro che selezionare il file precedentemente scaricato e dare OK, in pochi minuti dovrebbe avviarsi il router con openwrt.
Oltre al modem ADSL che come su tutti i router brcm63xx a causa del fatto che broadcom non rilascia la documentazione. non funziona , potrebbe non funzionare anche la scheda wireless essendo anche essa broadcom, in questo caso, è necessario procurarsi una scheda ath5k od una scheda ath9k minipci ed installarla al posto della broadcom.
Installando una scheda atheros, è possibile utilizzare questo router come access point multi-ssid e multi-vlan ( cose fattibili solo con Cisco che costano minimo 150 € ), ed è possibile anche lavorare sulla banda 5 ghz , quindi utilizzare il router come semplice access point 802.11a oppure utilizzarlo per connettersi ad una rete outdoor 5 ghz , come quella di
ninux.org
.
Preciso un'ultima cosa inoltre, questa guida probabilmente è applicabile anche ad altri router basati su chip bcm6358 anche se non sono dichiarati compatibili con openwrt ( neanche questo lo è )